An overview of our offices
Trusted Dentistry currently has three offices located in Angola, Goshen and Warsaw, Indiana.
The practice is privately owned by Dr. Guy Moore.
A tour of any of our offices leaves one with the impression of refined taste and attention to detail.
The cathedral ceilings and large windows give the entry and reception room a spacious, open atmosphere.
Comfortable armchairs and couches, calming lighting, stone pillars and a stone and brick gas fireplace
make the waiting area inviting and relaxing. A coffee bar and big-screen television complete the homey atmosphere.

Why Trusted Dentistry?
Known and respected for TRUSTED DENTISTRY, our offices strive to provide the
highest standard of care that is comprehensive, convenient, comfortable, and affordable.
Our offices offer a wide range of services from oral surgery and endodontics to advanced cosmetic dentistry.
Each office houses their our own in-office laboratory with skilled lab technicians. Our offices boast a highly trained full-time staff.
We run a fast-paced, patient-based practice and we are looking to hire eager, qualified dentists looking to grow their skills. 
The operatories feature built-in cabinetry and other accents in natural wood colors. Each houses a modern treatment system composed of a
dental chair with a monitor,  light and everything  necessary for a variety of treatments, from hygiene to wisdom tooth removal and dental implants.
We also have a television screen, windows for natural light and a cozy chair for parents during children's appointments.
Marketing is about connections. Connecting a message to a target audience, connecting a solution to a problem, connecting business goals with a desired result. 
Trusted Dentistry didn't just become the #1 spot on google impression shares, it didn't accidentally beat out the competition in keyword rankings or organic searches.
We are number one because we work to be number one and we have the skills in the office to achieve and keep that title.  
OUR DOCTORS
Currently we employ six full time Dentists between the three offices and we are looking to hire two more.
Interested in learning more or applying?
Email : GenMgr@TrustedDentistry.
TYPICAL DOCTOR SCHEDULE
Monday – Thursday 9am- 5pm
Friday 9am – 3pm
Our doctors schedule is usually four days a week and one Saturday a month
PERKS at TRUSTED DENTISTRY
– Paid Vacations & Full Dental Benefits
– Insurance & 401k Options
– Competitive Salary & Monthly Performance Bonus
– The opportunity to work and grow your income at one of the largest dental practices in Indiana.
UNDERSTANDING THE MARKET
Corporate Dentistry can try to out market us,
but they will never out service us!
Examples of Commercials We Air
Dental Emergency | Toothache
We're Here For You | Covid-19
What Does All This Mean For You?
We average over 500 new patients per month between the three offices.
That is over 6000 new patients every year.

What does this mean to you, as a new Dentist?
As a private practice we have set the groundwork…

– It means you will have the ability to grow quickly as a doctor.
– You will learn to work  faster, better and understand how to
  multitask as a care provider.
– You will be exposed to and trained in advanced cosmetic and
  surgical procedures right here in our offices.
– Learn and grow in a fast-paced, cutting-edge dental facility.
– Experience the freedom of honing your skills by while working
  alongside experienced mentors.

It means you can be whatever type of dentist you aspire to be. You will have the tools, experience and patient base to do it. We are not corporate dentistry. We are a private practice of hometown dentists that are determined to provide care for our communities.  We want you as part of our team – not an "employee of the corporate system." We invest in you what you invest in yourself. You will grow fast as a dentist and learn to have confidence in the procedures that you preform.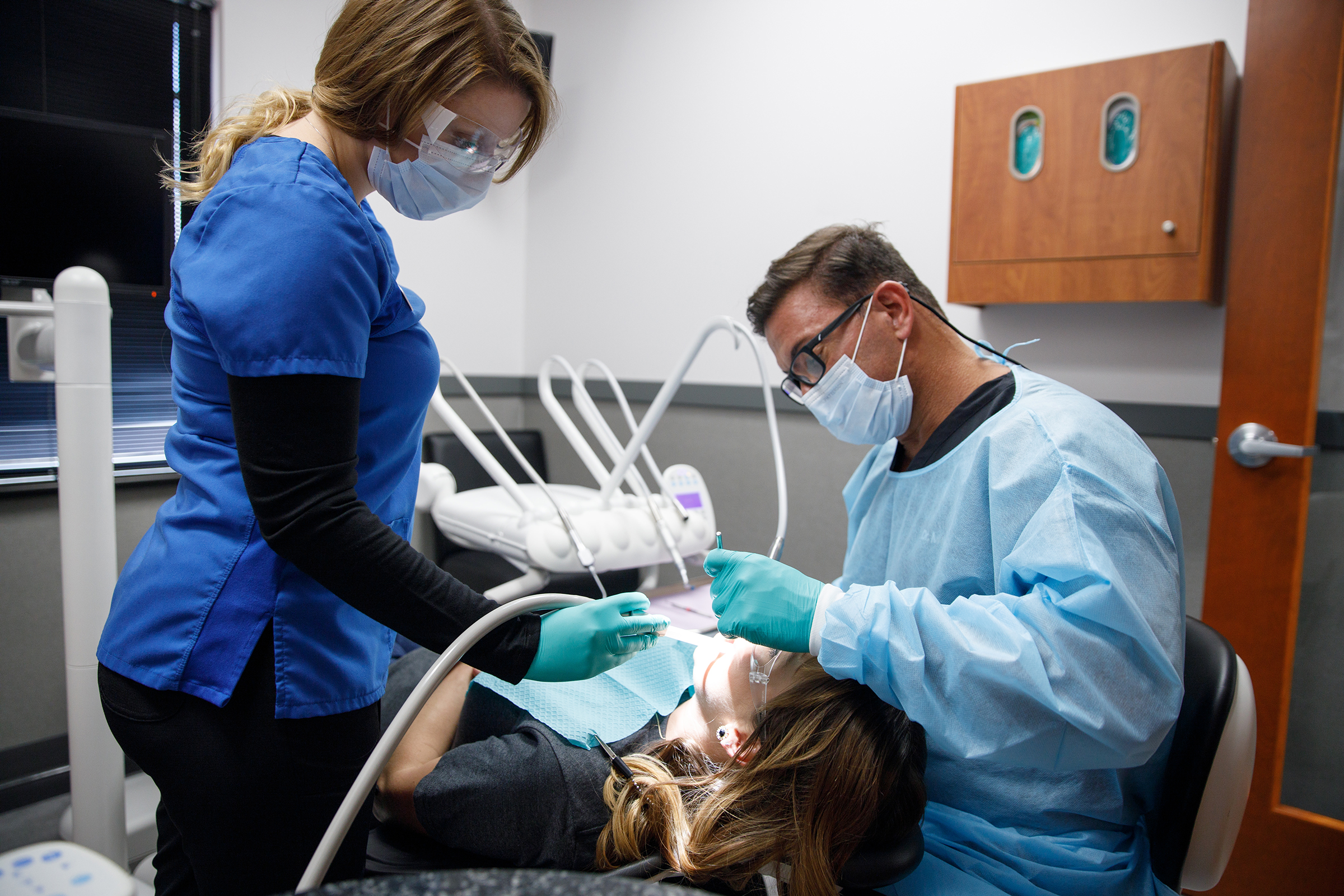 Procedure Examples We Offer